Account members
Account members are Tracker users associated with one or more accounts. They can be members of projects in an account, or users invited to the account to share in account administration.
When a project owner invites a new member to a project, that person becomes a member of the account that the project is in.
Account owners and admins can add account members on the Account Members page.
Here's how to access the Account Members page:
Click Accounts under your username at the top right of Tracker.

Select Manage Account for the account you wish to manage membership for.

Click Account Members.
When you add a member to an account, you can assign them a role/permissions for that account:
Account member roles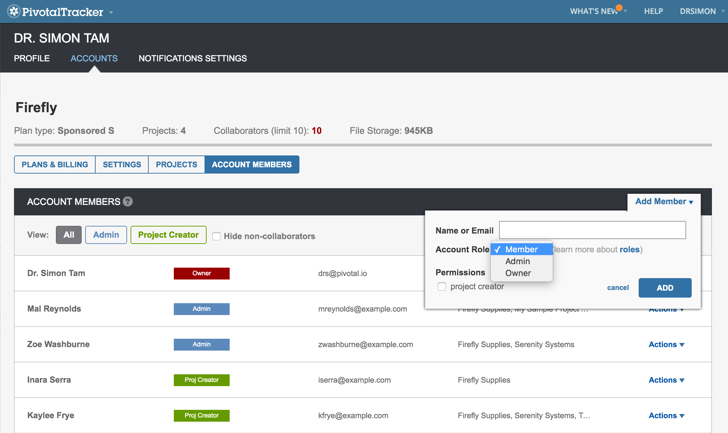 Owner
By default, this is the person who created the account. The account owner can view and change any project in the account, add/remove project members, change Project Settings, etc. The owner is also responsible for managing the account's paid subscription (including changing or canceling a paid plan and maintaining billing details), and receives all billing-related emails, including payment receipts. An account can have only one owner; however, you can transfer ownership to another member by following the steps outlined in Transferring account ownership. Account owners who are not a member of any projects in the account do not count against collaborator limits.
Admin
These are additional people who can administer projects in the account, add/remove members or change Project Settings. Admins have the right to change people's roles, meaning they can add additional admins, as well as transfer the ownership of the account to themselves or any account member. Admins should be trusted people within your organization. Unlike the account owner, admins cannot receive billing related emails, change the subscription plan or enter/update billing details. In general, we recommend that any account (not a personal login) in Tracker have at least one admin member in addition to the owner. This ensures that you're never at risk of problems due to just one person leaving your organization. See Changing an account role for steps on how to make someone an admin.
Project creator
Anyone given project creator permission can create projects in the account, in addition to the account owner and admins. Account members are not automatically given project creator permission in the account; that can only be set by the account owner or an admin, per person, on the Account Members page. See Changing an account role for steps on how to give someone project creator permissions.
Account Role Permission Guide
|   | Member | Project Creator | Owner | Admin | Notes |
| --- | --- | --- | --- | --- | --- |
| View assigned projects | X | X | X | X |   |
| View all projects |   |   | X | X |   |
| Create new projects |   | X | X | X |   |
| Add/remove project members |   | X | X | X | Project creators can only add/remove members for projects they own. |
| Receive billing-related emails |   |   | X |   |   |
| Add/remove account members |   |   | X | X |   |
| Change account roles for members |   |   | X | X |   |
| Assign other members admin role |   |   | X | X |   |
| Change account owner |   |   | X | X |   |
| Change account plan |   |   | X |   |   |
| View and print receipts |   |   | X | X |   |