This report gives an overview of project trends and metrics to help you assess its health and pace. You can see the big picture, then drill down for more detail to see exactly what's going on. The Project Overview report lets a team quickly identify unwanted trends to address and positive results to celebrate.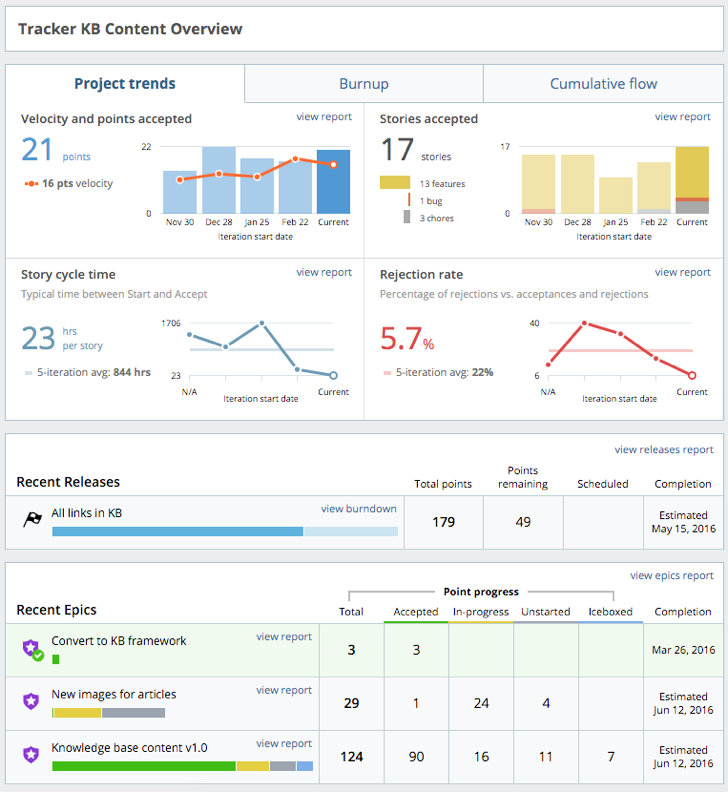 Using this report
Click Project at the top of the Analytics sidebar.
The top section of this report allows you to see useful trends at a glance, including the following:
The Project Report also shows information about the most recently completed and in-progress releases and epics.
Drill down into any of the information shown with the view links to see detailed reports:
Click view burndown next to a release to see its Burndown chart and the accepted stories in it.

Click view report next to an epic to see its Epics Progress report.
Most reports let you filter by epic or label, switch to story counts vs. points, adjust the displayed date range, and see the specific stories that contributed to the bars, lines, and iterations a chart shows.