The My Work panel allows collaborators to see all of their assigned stories (i.e., stories they own) that have not yet been started, as well as those stories assigned to them that are in progress (i.e., started). Additionally, all stories in the delivered state (i.e., ready to be accepted or rejected) for which you are the requester are displayed, as well as any stories containing Reviews in which you've been assigned as a reviewer. The My Work panel in a Workspace affords even more visibility as it allows you to see stories across all of the projects contained in your Workspace. Stories in the accepted state are excluded from the My Work panel by default.
To activate the My Work panel, simply select My Work near the top of the navigation sidebar.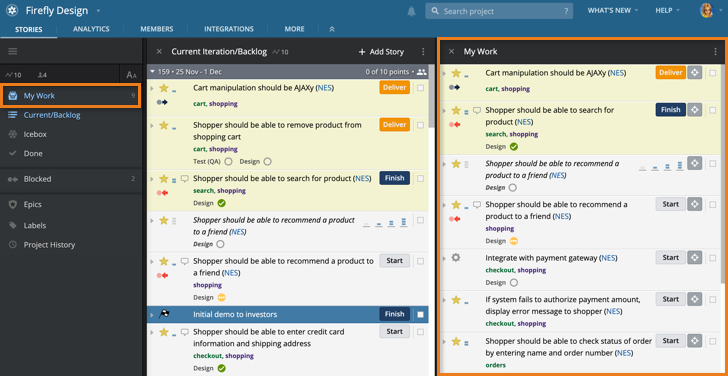 You can also use Search to perform a My Work query for a given user in a project by either clicking on a user's initials in the collapsed stories view, or by using the Search field in the top navigation menu (i.e. mywork:"NES", see image below).