Tracker has keyboard shortcuts for common actions in a Tracker project, Workspace, or story. Type ? in your Tracker Project or Workspace view to see the keyboard shortcuts shown below. You can also click Keyboard Shortcuts in the Help menu toward the top right of Tracker.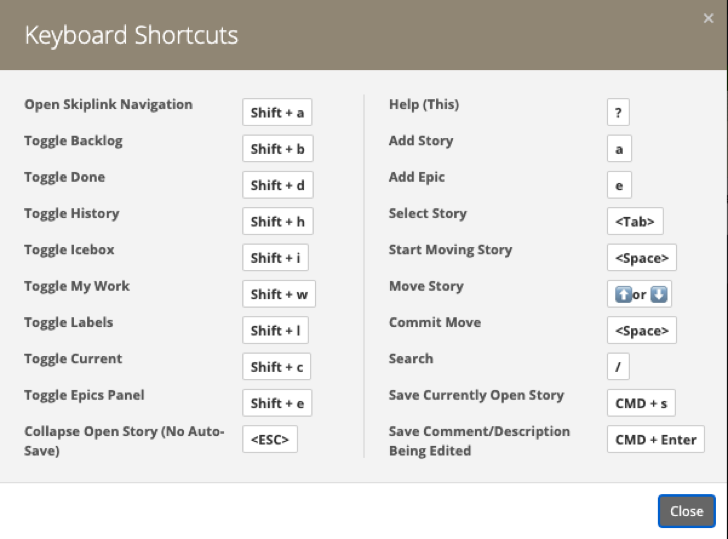 Shortcuts in Project and Workspace view
The table below lists all currently available keyboard shortcuts in Tracker.
| Action | Shortcut |
| --- | --- |
| Open Skiplink Navigation | Shift + a |
| Toggle Backlog | Shift + b |
| Toggle Done | Shift + d |
| Toggle Project History | Shift + h |
| Toggle Icebox | Shift + i |
| Toggle My Work | Shift + w |
| Toggle Labels | Shift + l |
| Toggle Current | Shift + c |
| Toggle Epics Panel | Shift + e |
| Collapse Open Story (no auto-save) | <Esc> |
| Help (This) | ? |
| Add Story | a |
| Add Epic | e |
| Select Story | <Tab> |
| Start Moving Story | <Space> |
| Move Story | ⬆ or ⬇ |
| Commit Move | <Space> |
| Search | / |
| Save Currently Open Story | CMD + s or CTRL + s |
| Save Comment Being Edited | CMD + Enter or CTRL + Enter |
Shortcuts when editing
When you edit stories and epics in Tracker there are additional shortcuts, shown in the table below:
| Shortcut | Focus is on | Action |
| --- | --- | --- |
| CMD + s or CTRL + s | Editing a comment | Saves the comment |
|   | Anywhere else in the story | Saves and closes the story |
| Shift + Enter (or Return) | Editing description or comment | New line |
| Enter | Editing description or comment | New line |
| CMD + Enter or CTRL + Enter | Editing a comment | Saves the comment |
|   | Anywhere else in the story | Saves and closes the story |