SAY HELLO TO THE NEW
PIVOTAL TRACKER
SEE FEATURES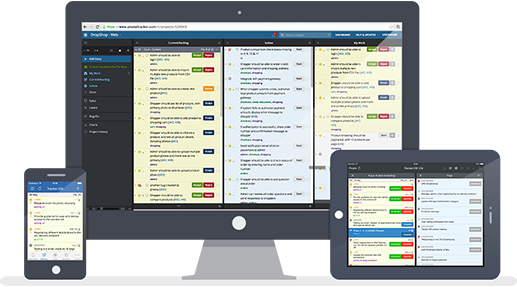 Build
Better
Software
Faster
Start your 30-Day Free Trial
PRIORITIZE
Break your project down into bite-sized stories. Use points to estimate each story's relative complexity and prioritize it in the backlog.
DELIVER
Grab the next story off the top of the list, ask a question or review mock-ups, then roll up your sleeves and get to work coding.
ACCEPT
The heart of the feedback loop. A story isn't done until the customer accepts it. If needs have changed, now's a good time to have a chat.
"I leave Tracker open all day."
Aaron Peckham, Founder
Urban Dictionary
Writing software isn't half as hard as all the talking, emails, and meetings needed to reconcile shifting requirements and slipping deadlines. We get it, we've been there. In fact, we're still there.
We're Pivotal Labs, a web and mobile development consultancy. In 2006, we built Tracker for our developers and clients to facilitate constructive communication, reflect the status of a project, and help forecast its future.
Today, Tracker is a staple of the developer's toolkit. If you're new to Tracker, we hope you'll give it a try.