UPDATE November 12, 2021: We have released an update with modified priority field nomenclature based on the feedback we have received.
To prevent confusion with Tracker's blocker features, 'P0 - Blocker' has been renamed to 'P0 - Critical'. Also, 'P4 - None' has been simplified to 'None'.
Please let us know if you have any questions or feedback. You can use the 'Provide Feedback' option from the Help menu in your projects to quickly send us comments or email us at support@pivotaltracker.com.
We always appreciate hearing from you!
---
Previous post:
Have you struggled to manage story importance in your projects outside of the regular backlog priority order? Are you using other project management tools that handle priority differently and need a way to represent that information in Tracker? Do you have reporting needs that rely on more priority/importance information than what the backlog order provides?
While story position in your project backlog is still the expected and recommended method for prioritizing your stories in Tracker, the new story priority field will provide additional possibilities for categorization, sorting, and reporting as well as being an important needed element for integrating with other external tools.
The priority field is also optional and can now be enabled or disabled from your project's settings page.

Why is there a priority field in Pivotal Tracker?
To further clarify, the story priority value allows you to assign a level of importance to your stories, independent of the backlog order. This can help you see upcoming stories that have a higher level of importance, even when they are not yet ready to be worked on. You can also search for stories with a particular priority value and create reports based on various levels of importance. In addition, when repositioning your stories in the backlog, it will be more visibly apparent when an important story is not being positioned appropriately.
Please note: In the interest of reducing confusion, we are exploring the possibility of changing the 'priority' field to 'importance' in the near future.
Key takeaways
This new feature is not intended to replace the backlog priority order and is optional.
It adds extra visibility and compatibility with external tools and any priority information they are using.
It will allow for upcoming features such as sorting by priority values and generating meaningful reports.
More updates will be coming as we receive and consider your feedback.
Priority Range
Priority values range from P0 to P4. The highest priority level is P0 which indicates a critically important story and the lowest priority level is P4 which indicates a minor or less important story.
Please note: In the near future, we will be updating the current priority nomenclature based on feedback we're getting now, and the default priority will also change from 'P3- Low' to 'None'.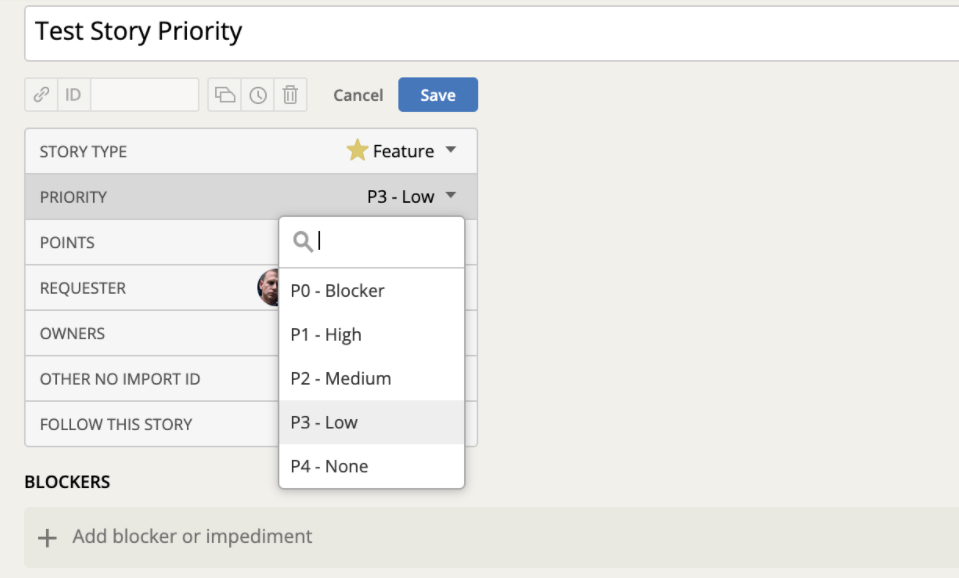 The current default priority is 'P3 - Low'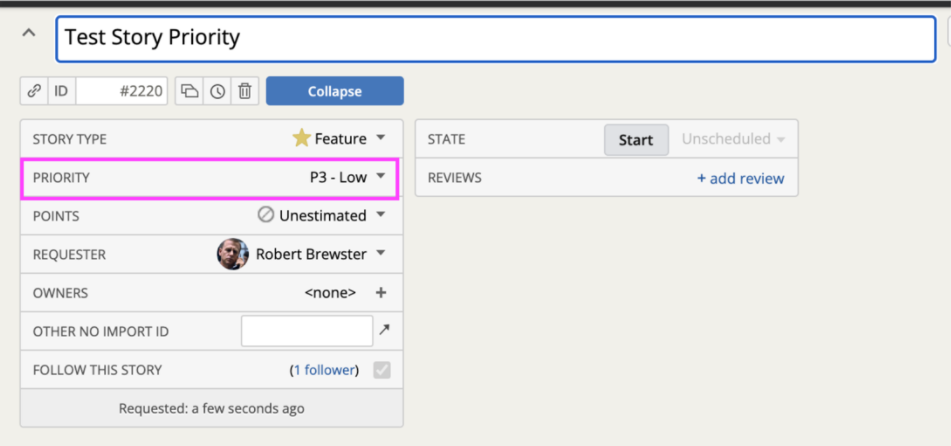 Searching for stories with a specific priority
You can also search for stories with a specific priority value with the keyword 'story_priority' in the search bar. For example, if you wish to search for the stories with a priority of P1 or P3 you would use the query:
story_priority:P1,P3
For use with the Tracker API V5, please refer to our API documentation. For quick reference, please Look for the 'story_priority' property in the story resource.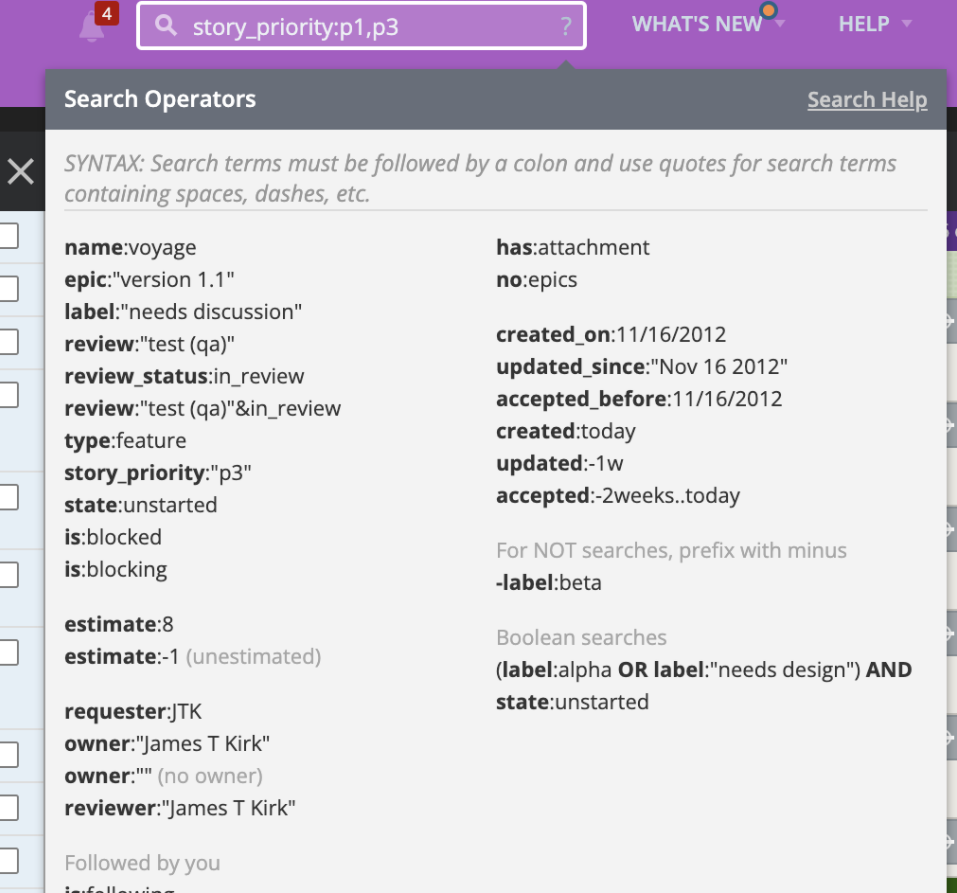 What's Next?
We have received a lot of feedback so far and appreciate everyone who's shared their thoughts. Based on this feedback, please look for the following:
Updates to this blog article as more feedback is received and adjustments are made.
To help reduce any confusion, we may rename the story 'priority' field to 'importance' in the near future. We hope this could help distinguish it from story priority as represented by the backlog order, however we are still considering this potential update.
The new nomenclature for priority values will include changing 'P0 - Blocker' to 'P0 - Critical' and 'P4 - None' to 'None'
The default value of the priority field will be changed to 'None'.
New related features in the future, including the ability to sort in panels based on story priority values and other criteria as well as additional reporting/analytics capabilities.
We hope this new story priority feature experience makes your time in Tracker more productive than ever. As always, please don't hesitate to share your feedback by emailing us at support@pivotaltracker.com or by using the Provide Feedback option under the Help menu in Tracker.
We love hearing from you!
–The Tracker Team–