The Tracker Team has been working on an exciting update that makes your team's Story Cycle Time more representative of the work that your team is doing. This update is now live for all projects and applies to your past and future cycle times.
Cycle Time
In Tracker, Cycle Time is the median number of hours that your team spends on stories. It measures time from when a story is first started to the final date it is accepted. If a story is unstarted and/or accepted multiple times, Tracker uses the earliest start date and latest accepted date to calculate cycle time.
Updated Story Cycle Time
With this update, Cycle Time still calculates the median number of hours that your team spends on stories, but excludes weekends based on your project's timezone. If your project doesn't have a timezone set, you can add one in Project Settings.
You can see this change in Analytics, on the Project Overview tab. In the section for Cycle Time, click the view report link to be taken to the full report, or select Cycle Time from the navigation menu on the left.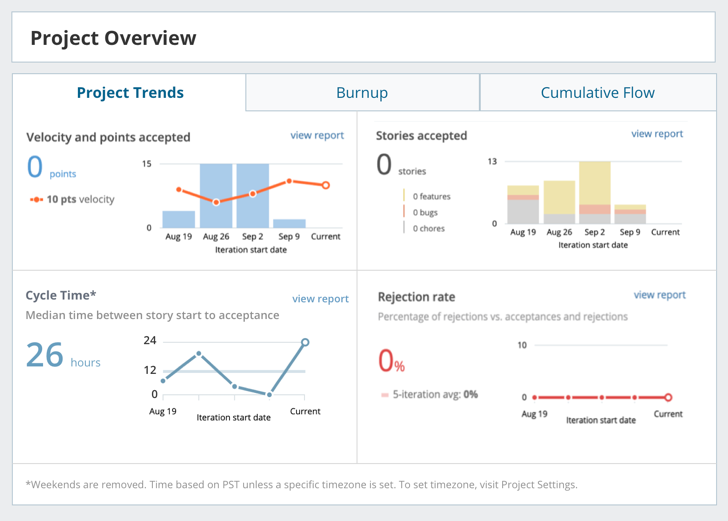 Additionally, all weekend activity on started stories is excluded from the Story Cycle Time report page, which means weekend hours will not be added in the report for stories remaining in Started, Finished, Delivered & Rejected states.
While we're here, for holidays or other times when your team members aren't all working, you might like to use Team Strength. While Team Strength has no impact on cycle time, it helps keep velocity (and therefore work per iteration projections) accurate, and is a visual cue in your project that anything unexpected in analytics, like a longer cycle time, might be influenced.
What do you think? Please share your feedback in the comments below, by emailing us at support@pivotaltracker.com or using Provide Feedback under the Help menu in Tracker. We love hearing from you!