We've streamlined the way email notifications are sent from Tracker, reducing inbox noise and improving email readability. We've also given you more control over which notifications you see in-app and in email.
Email improvements
You can now view email notifications as threads of updates. In the past, Tracker emails would send you an email with distinct title for each state changes. This had the result of potentially flooding a person's inbox with story updates if that person followed a number of stories.
Messages from Tracker are now threaded by story/epic title in most modern email clients. This results in a far more manageable inbox. We've also improved the readability of emails by highlighting mentions directed at you, comments, state changes and code commits.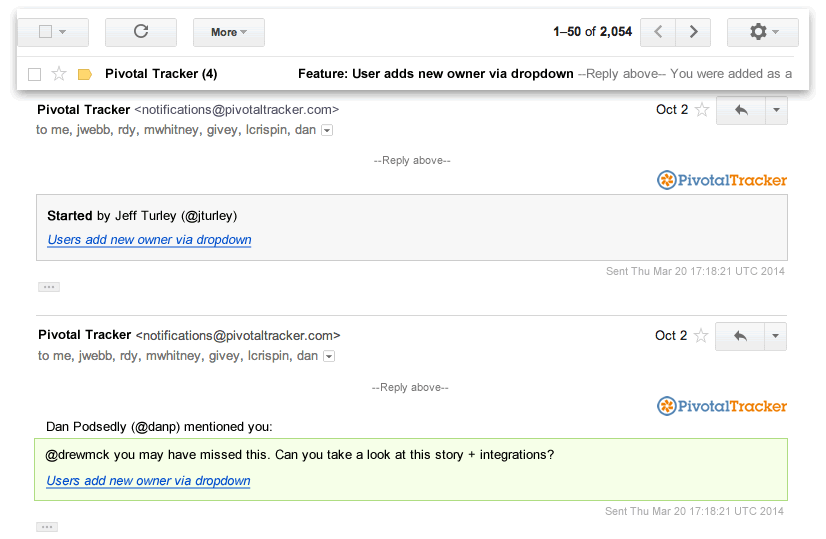 Project notification muting
In our last update, we gave you the ability to turn on/off certain notifications to give you more control over the messages you receive in email and within Tracker (beta only). In this release, we've improved the usability of these Notification settings.
On top of this, you can now mute notifications from certain projects, which is particularly handy if you subscribe to a great number of projects. You will still receive @mentions for any muted projects (unless you turn @mentions off globally). These new Notification options can be found in your Profile's Notifications Settings: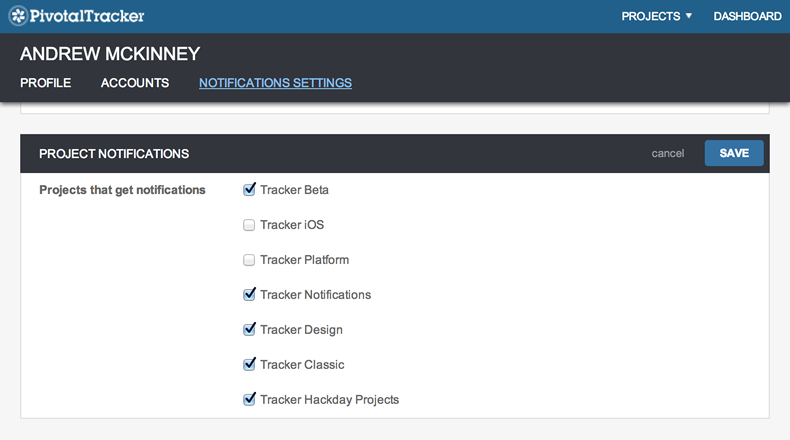 Your feedback is welcome
If you're still waiting for a beta invite, please be patient, we're gradually rolling out the beta to everyone. If you're already on the beta, don't forget to send us your thoughts via the green feedback button within Tracker (this is really helpful).
As always, follow us on Twitter for the latest updates to Tracker.