Email notifications allow you to stay connected with your project when away from Pivotal Tracker, and respond quickly when needed, for example to answer questions in story comments or accept delivered stories.
On busy projects, though, the volume of notifications can be a little overwhelming. And with in-app notifications, introduced in the new Tracker beta, you may be interested in different types of notifications in the app vs those you get in email. If you're a product manager, who spends much of your day in your email inbox, you may want to see most or all notifications in email, but only direct @mentions when in Tracker.
Today's update introduces the ability to turn on or off certain in-app and email notifications. These new notification settings provide you with more granular control of the types of notifications you receive, and where you receive them.
To access your new notification settings, go to your Profile, then Notification Settings.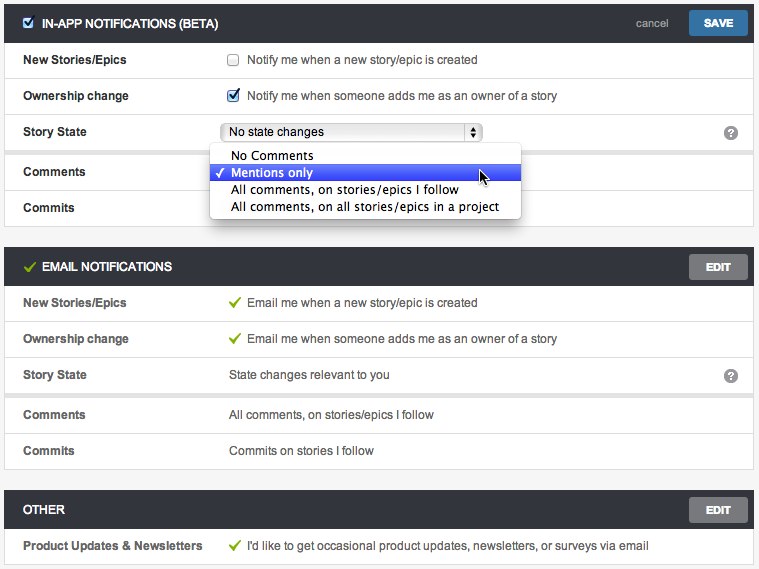 If you've never changed your notification settings, by default you'll get notifications in email for:
new comments on stories and epics that you follow
when a story you've requested is delivered, or when a story you own is accepted or rejected
stories getting assigned to you
For in-app notifications, in the beta, by default you'll only see notifications for comments you're explicitly @mentioned in, or when someone makes you an owner of a story (assigns it to you).
The various other notifications that you can choose to receive, in email or in-app, include:
new stories or epics created in your projects
comments on all stories and epics in your projects
all state changes on stories you follow, or all stories in your projects
source commits on stories you follow, or all stories
You can also disable email or in-app notifications completely, with the checkbox at the top of the relevant section (after you click the Edit button).
More improvements to notifications are on the way. We're changing the format of email notifications, so all notifications related to a particular story thread together (they'll all have the same subject and appropriate threading headers), and you'll soon be able to opt out of notifications for specific projects.
Please get in touch if you have questions or feedback. And if you're not already, follow us on Twitter for all the latest news.
P.S. If you don't yet have access to the new Tracker beta, you should soon. We're rolling it out to everyone gradually.