Among its other bells, whistles, and doo-dads, Tracker provides powerful search capability to quickly find what you need. You can learn the many available search keywords and operators for filtering just the stories and epics you want in our Help Center. What you may not have discovered yet are all the useful things you can do via the Search panel actions menu.
It's never too late for that discovery! Here are a few scenarios to help you get more value from Tracker's search features.
"Please, won't you look at these search results."
Not that any of our software ever has bugs, but just for the sake of argument, imagine that you find one while testing. After searching your Tracker project for stories related to the buggy area, you now have a list of those stories in the Search results panel. Why not share them? To do so, click the Search panel actions menu and select Share search. Copy the shareable link and post it in your team's chat channel, or include it in an email, to ask another team member if they have any insight into whether any of the stories caused the bug.
"What's everyone working on?"
Imagine you're a team product owner, coach, or scrum master—it isn't hard to do—and you want to see everyone's work in progress to make sure nobody is overloaded. Spoiler: you can do this. Use the MyWork: search keyword, followed by the team member's initials. For example, a search MyWork:ZW will return active stories for which ZW is an owner. If your team members are pairing, you can find a pair's active stories with something like MyWork:ZW MyWork:MR.
You can pin the Search result panels so that you can see the MyWork for each team member or pair side by side in your Project or Workspace view. Click on the Search panel actions menu and choose Pin search.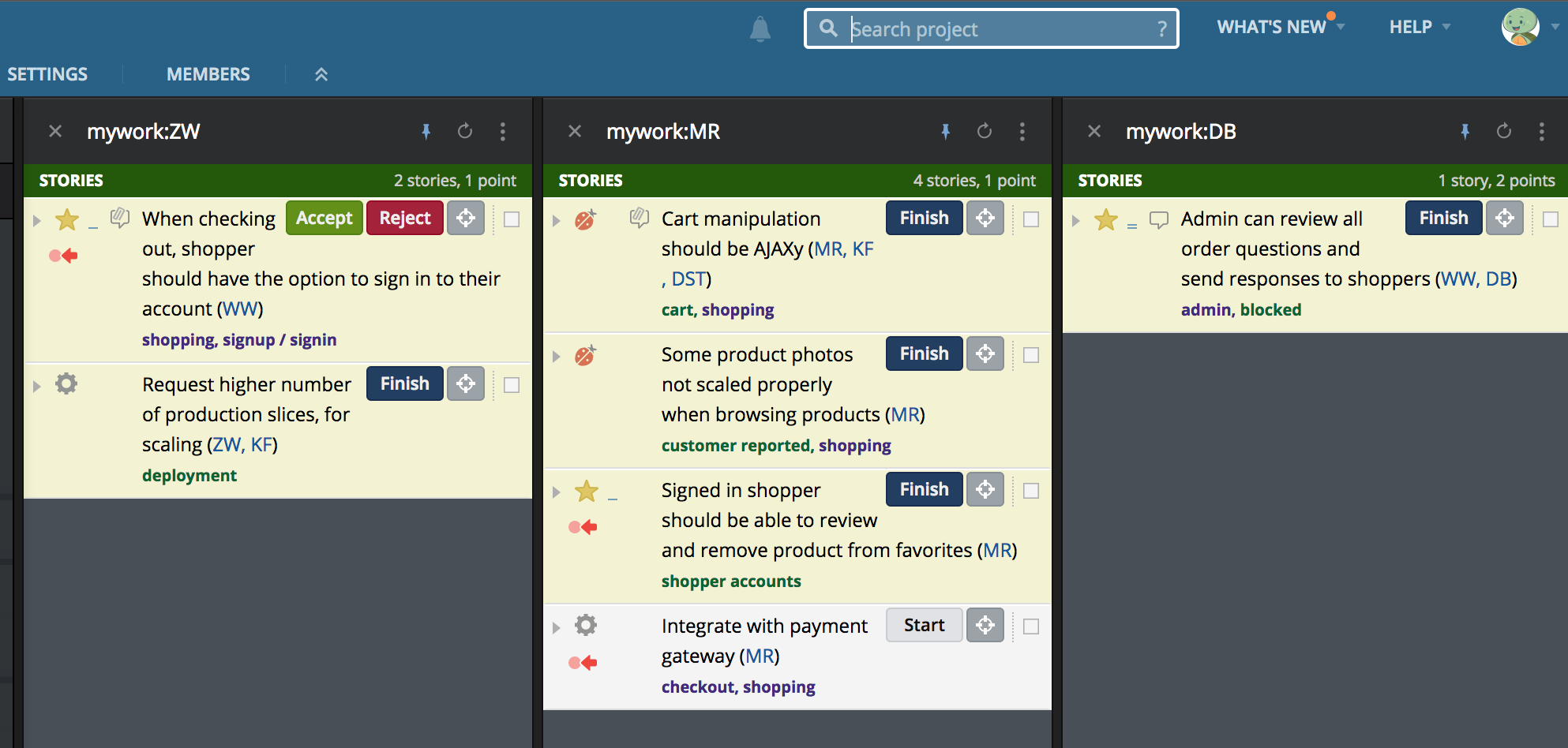 Example of pinned MyWork search results
We know just how you feel. You can create a workspace to see stories in multiple projects in one view. Searches in your workspace will return stories from all projects in the workspace that match the search criteria. One way to easily track related stories in different projects is to use the same label in multiple projects to tag related stories, then retrieve those with a label search.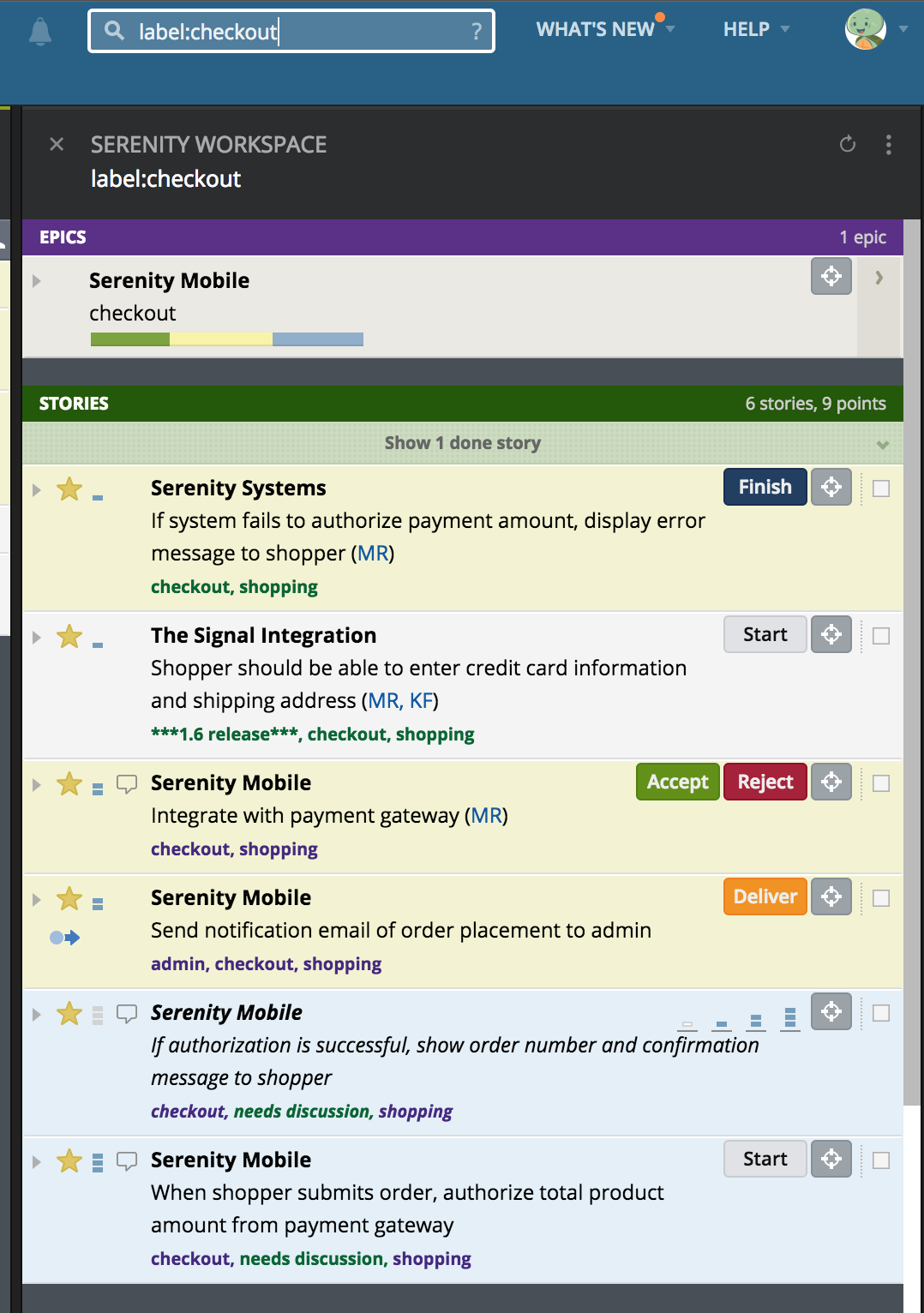 Search results across multiple projects
"I want to keep track of a specific set of stories."
Another scenario: Your team uses the label "customer reported" to identify bugs found in production. As the support manager, you want to keep tabs on those bug stories. What's a support manager to do? Try this: Search on the label name and story state to find these: label:"customer reported" -state:accepted. Click on the Panel actions menu in the Search result panel and choose Save search to sidebar. Give it a meaningful name as it will now live forever in your sidebar, rent free, allowing you to bring up the latest search results anytime by clicking on it.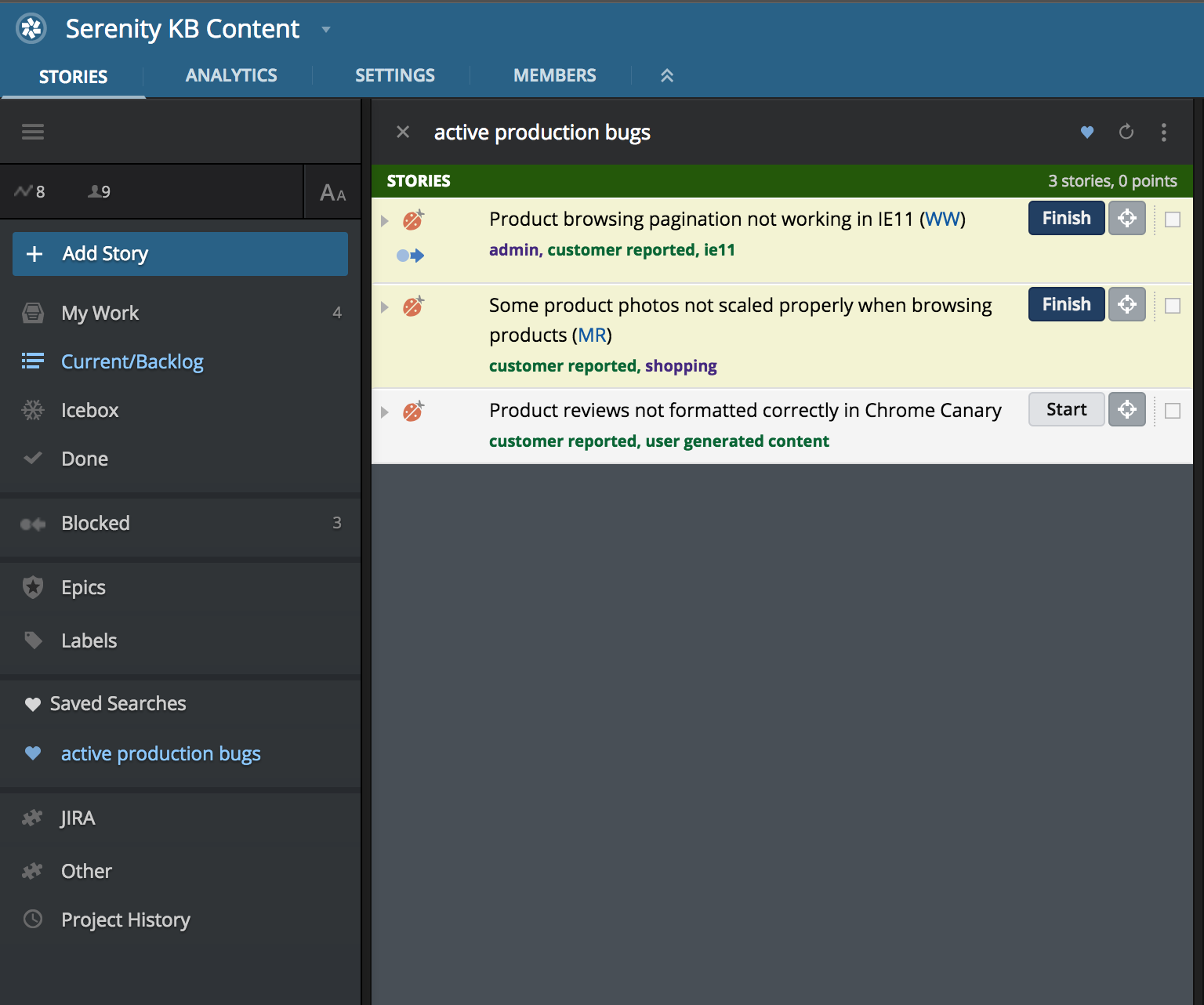 The search "active production bugs" saved in the sidebar
You can save epics to your sidebar in a similar way. Open the Epic stories panel and click on the arrow on the right-hand side of the epic you want, or expand the epic and click Add/View Stories. Click the Epic panel actions menu at the top of the Epic stories panel, and select Save epic to sidebar.
Tracker's search can do much more!
There are tons of searches that you may want to share with others or keep handy in your sidebar. Click on the ? in the search input field to bring up a list of commonly used search keywords.
Have you found what you're looking for? Is the search ongoing? Please let us know what we've missed or what else you'd like to see in the Discovering Tracker series by using the Provide Feedback widget under Help in any project, contacting us on Twitter, or emailing us.