The Tracker team has been hard at work making Tracker more secure than ever and with that, we're happy to announce that Two-factor authentication is now available to all users!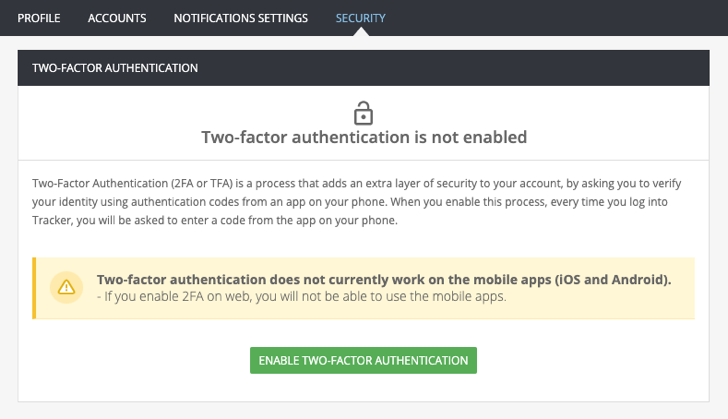 Two-factor authentication (2FA) is a process that adds an extra layer of security to your login, by asking you to verify your identity using authentication codes from an app on your phone. When you enable this process, every time you sign into Tracker, you will be asked to enter a code from the app on your phone.
Note: Members of SAML SSO enabled Enterprise accounts won't have the option of 2FA as they are already signing in with additional security.
Enabling 2FA is available to each user from their Profile page under the Security tab and is a breeze to set up! Just follow these simple steps:
Select your username or avatar at the top right of Tracker, then choose Profile from the drop-down menu.
Select the Security tab from the top navigation menu, then select Enable Two Factor Authentication.
On the following page you'll be provided with recovery codes that you can either download or print. Please store these codes in a secure location (not on your 2FA device) and treat them like a password. If you lose your device, you will need these recovery codes to access your account. Without these codes, we may not be able to recover your account.
If you haven't already, please download a 2FA application to your device (there are many options to choose from), which will allow you to scan the QR code provided on this page (if scanning's not working, use the provided text/code instead). Once scanned, the 2FA application on your device will be linked to your Tracker login.
To continue enabling 2FA for your login, enter the authentication code provided on your device in the provided field, which upon successfully entering, will enable 2FA and send a confirmation email.
For more information please see the Help Center article for Two-factor authentication.
We hope your Tracker experience is made that much better with the added peace of mind and security of 2FA. As ever, please don't hesitate to share your feedback in the comments below, by emailing us at support@pivotaltracker.com or by using Provide Feedback under the Help menu in Tracker. We love hearing from you!
–The Tracker Team–