You may have noticed a Provide Feedback link in the Help & Updates menu, when you're in a Tracker Project or workspace.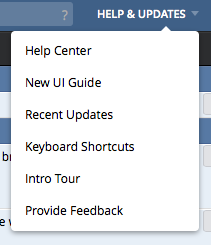 We have big plans for that little widget. Though it's currently intended only for feature requests and comments you don't necessarily need an answer to, we'll be improving it so you can find it anywhere, and use it for any reason you want to talk to us.
You will always be able to email support@pivotaltracker.com with any questions or problems you might have, just as you can right now, to get the fastest possible reply from a Tracker team member.
Also, as part of us wanting to provide more timely and personal responses, we will be moving away from Community Support. We plan on closing the community soon—and after that it will redirect to our Help Center. We've really appreciated all your feedback and feature requests there over the years, and we will continue to use all that forum content as a reference for our road map, along with all the new feedback we're getting in-app.
Some things aren't changing: PRO plan customers will continue to receive priority support. For those on Startup or Free plans, feel free to use Provide Feedback with feature requests and comments and email us if you need help. We'll get back to you as soon as we can—we just respond to PRO plan customers first.
We do our best to reply to urgent inquiries immediately or at least within a few business hours, and all other questions to support@pivotaltracker.com within 1–2 business days. And though we try to check in more often, we're here 8am–6pm PST (16:00–02:00 GMT) Monday through Friday (except U.S. holidays).
You can always find answers on our FAQ page, where your browser's Find feature (CMD+F or CTRL+F in most) can take you right to the topic of interest. However, we have plans for that, too. We are busily working on a brand-new, fully searchable Knowledge Base that will be chock full of topics, tips, and articles to help you get started, or to dive deep with Tracker.
We hope all this provides you with a better Tracker experience and as always, however you'd like to get in touch, we'd love to hear from you.