Tracker has always focused on facilitating collaboration and transparency at the story level, but it hasn't always been easy to see the big picture or interesting/worrying trends in your projects. In other words, there are plentiful trees, but no forest. With our new Analytics beta, we're ready to introduce the forest to the trees. This effort has largely been driven by your feedback, and our continuous desire to improve the Tracker experience for our customers, and it's now ready for a test drive.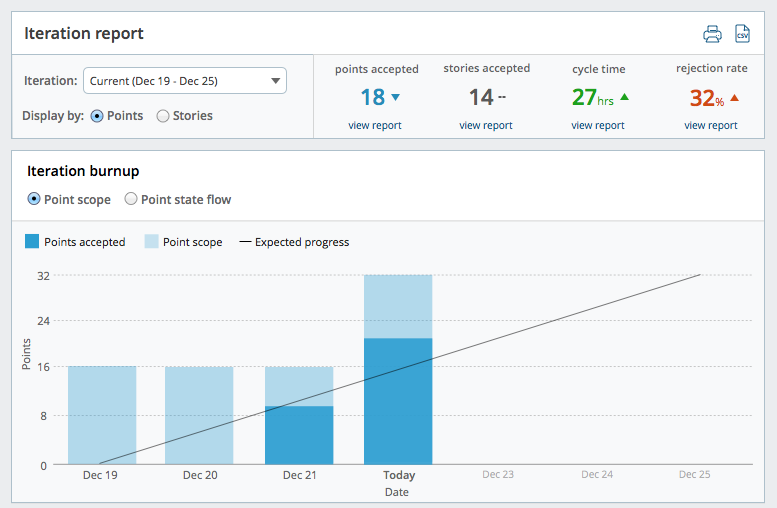 Our goal was to create a variety of simple but powerful reports that provide insight into a project's cadence, as well as a glance at its fluctuation over time, so that you always have an accurate project pulse. The reports not only show the high-level progress on your work—allowing you to manage scope creep and identify bottlenecks so you can improve the process to adapt—but also give you the power to dive deep into the nitty-gritty of specific stories, epics, and iterations. In short, the Reporting and Analytics tools should give a product manager the data to know what your team is working on, how consistent they are, and where they need help.
With that in mind, here's what you can expect to find in this beta:
Project Overview: See high-level metrics and trends in one glance, including Cumulative Flow, Cycle Time, and Rejection reports.
Iteration Report: Get an overview of progress made in a given iteration, including a breakdown of accepted stories by epic, as well as impact on project metrics.
Cycle Time: Visualize time spent on stories by state, story type, or story size, and go granular to see which exact stories were involved in a given iteration.
Epics Report: Easily scan the progress of your large features, with the ability to drill down to understand how the scope has changed over time.
Story Progress: See and share story-level progress for a given date range or iteration.
Analytical data via API
We're all about APIs, so all of the data behind these new Reports and Analytics features is exposed via the Tracker developer API.
Cool, but where will my charts go?
After you opt in, you'll find yourself in Tracker's Analytics section, which will be the new home for your Charts and Reports. You can always go back there using the navigation links in the updated header.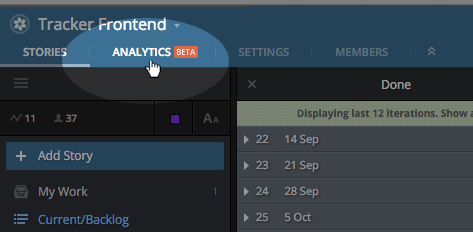 After opting in, if there is an old chart or report you were fond of and would like to see again, you can switch between the new and old under your Profile.
You might also have noticed the little cog icon has disappeared from the top of the sidebar. Now you can click Settings in the new project header to find Project Settings, CSV Import/Export options, and more.
More on the way
Even if we're excited about the contours of this beta, we've hardly wiped our hands of Reports and Analytics and called it a day. There are still a host of functionalities we're working on and intend to release soon, including the ability to export, print, and share all reports and charts, as well as multi-project reports that show an aggregate view of several projects at once.
Your feedback will be crucial to this process. As we continue to tweak and improve these and future pieces of Analytics, please don't hold back. Get in there, play around, and get comfortable with the new beta. Please click Send Us Feedback at the top left, on the Analytics page, to submit your comments and suggestions, or email them to us.