You may be asking yourself, "Has something changed? Have you been working out? Did you cut your hair?"" The answer is Yes. Tracker has been redesigned for iOS 7.
We've made many changes to the UI including:
Clean view of panels and stories
Redesigned story and epic editing
Improved notifications
Improved navigation between epics
New Project Velocity chart
As always, if you like the app, please review it on the App Store (even if you reviewed an earlier version).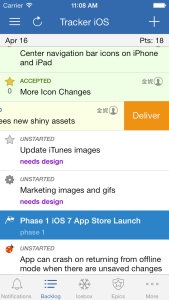 Hope you enjoy the fresh new app and if you don't already, follow us on Twitter for the latest Tracker news.