2015 is here, hopefully it's off to a great start for you and your projects!
It's hard to believe, but Pivotal Tracker will be turning 10 this year. What started as an experimental internal tool at Pivotal Labs, a small consultancy in San Francisco at the time, grew into one of the world's most popular agile project collaboration apps, bringing focus and transparency to thousands of teams around the world.
The last year brought some big improvements to Tracker and developer API. With a new foundation, we're ready to bring you some big new things this year.
To kick things off, we're changing our pricing to better serve our growing customer base. Tracker is now completely free for teams of up to 3 collaborators, and our startup-tier plans now allow for more collaborators as well as beefier file storage space.
As startups grow into larger companies, we want Tracker to grow with them. To better support growing teams with features like a more robust API, better search, multi-project workspaces, and (coming soon) greatly improved project analytics, we're increasing pricing for our Pro plans moderately. This new Pro pricing applies to new paid subscriptions or upgrades only.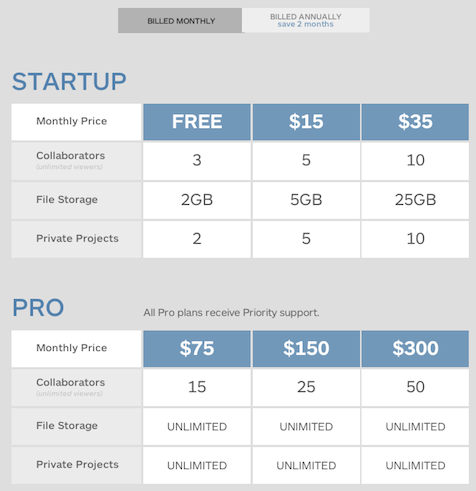 How exactly does this price change affect you?
If your account is already on a paid plan, you can stay on your current plan, and keep old pricing indefinitely. However, your account may now qualify for a free, or lower priced plan, depending on the number of projects, collaborators, and amount of file storage space being utilized.
You (or the owner of the account that your projects are in) can see available plans on your account's Plans and Billing page, which can be accessed via the Accounts link in the menu under your username, at the top right. That page will show you who owns a given account, if it's not you.
Downgrading an account to a lower priced plan means you'll be billed the new price at the beginning of your next billing period. If you switch to a new plan, your old plan with old pricing, will no longer be available.
For more details, check out the new pricing page, and please don't hesitate to email us if you have any questions. To keep up with what we're up to, follow us on Twitter or Facebook.