The Tracker team has been busy since the hosting move last month. We've shifted our focus from improving Tracker's performance and stability, to core product enhancement. This update introduces an updated visual design, as well the first wave of usability improvements. We've also added some new features, including the ability to sign in to Tracker with your Google Account.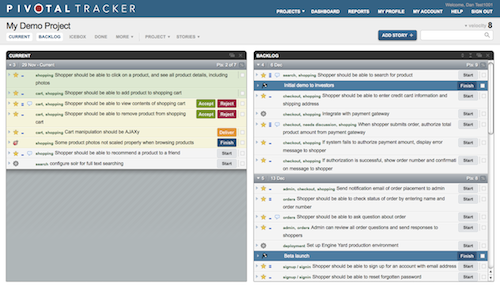 The Tracker project page (above) has a number of visual changes for improved contrast and readability, but it should still be familiar, and just as easy to use. We did, however, re-organize the various drop-down menus to make finding things more intuitive.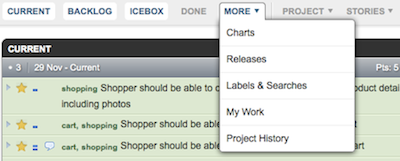 The More drop-down menu allows you to access the less commonly used panels such as charts, releases, history, and any integrations you may have enabled for your project.
The new Project drop-down menu contains project level actions such as changing settings, inviting people, configuring integrations, etc. Finally, the Stories menu allows you to perform actions on selected stories, such as deleting, applying a label, or moving to another project.
The Projects drop-down menu has also moved, it's now part of the navigation links on the right. In addition to allowing you to switch between projects easily, you can now also use it to access the All Projects page, where you can see all of the projects you're a member of, grouped by account.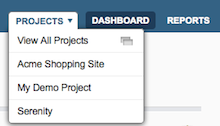 The preference settings for including the current iteration in the backlog panel, and showing the project tabs have moved to your Profile page.
Dedicated Sign in page and Google Accounts
The sign-in form is now on a dedicated, HTTPS-only page. Access it with the Sign in link in the top right corner of the new home page, or this URL:
</signin>
Tracker now allows you to sign in via OpenID, using your Google Account.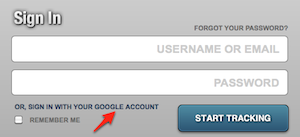 If you've used your Google Account email address when you signed up for Tracker, signing in with Google will automatically take you to your existing Tracker account.
Disabling Enter key when editing stories
We've also added the ability to disable the automatic saving & closing of stories with the Enter key, as a new preference on your Profile page. This should make it easier for our Japanese users to use the Enter key to select from kanji words, for example.

Known issues and feedback
This is a fairly major update, especially in terms of the visual design. Please let us know if you discover any issues—by email, posting to Satisfaction, or via @pivotaltracker on Twitter. We plan to address these as they arise, and update the site frequently this week. At the moment, we're aware of some layout issues in Internet Explorer 7, which will be fixed within the next few days.
As always, we're looking forward to your feedback!