Version 1.1 of the Pivotal Tracker for iOS app is now available in the iTunes App Store. This update adds the Search and My Work panels, a redesigned iPhone interface, and many overall usability improvements. All the details after the jump, below.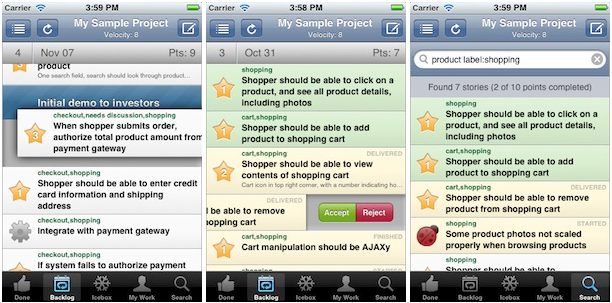 Search and My Work
You can now find and filter stories quickly with the new Search panel, which supports all of the Tracker search syntax that you're used to. The new My Work panel shows you all of the stories that you're currently working on, that are assigned to you, or that are waiting for your acceptance.
Add stories anywhere
Adding stories is easier now, just tap the new story button at the top right corner, regardless of where you are in the app (on the iPad or the iPhone).
Faster access to Story Panels
Switching between panels on the iPhone is now much faster with the new tab bar at the bottom. It even works while dragging a story—tap the desired target panel with the other finger.
Similarly, the iPad version now has a row of panel buttons at the top right, tap them to reveal a given panel quickly or just swipe the panels side to side as before.
Story states on iPhone
Story states are now displayed for in-progress stories on the iPhone, and easily changed by swiping a story to the left.
Other improvements
Drag and drop and scrolling has been significantly improved, particularly on older iPhone and iPod Touch models. We've also updated the app for iOS 5, and added many detailed interface tweaks to make stories easier to find and work with.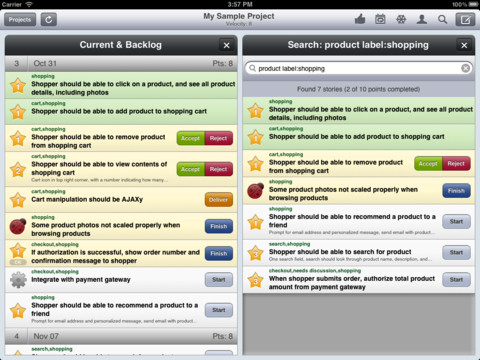 Feedback
We're committed to bringing the best of Pivotal Tracker to the your iPhone and iPad, while taking full advantage of all the user experience and portability features of the iOS platform. Many more improvements are on the way, but we'd love to know what you think so far! Send us an email.
By the way, we're thrilled to see all the positive reviews in iTunes. Thanks everyone, and keep them coming!