Next to improving and maintaining an awesome application, supporting the people who use it is key to success. We'd like to share how we ensure our customers are cared for on the Tracker team.
First and foremost, it's important that we have a reliable way for customers to contact us and for us to have a place to collect and respond to those inquiries. Here on the Tracker team, like many teams, we use a help desk application. We happen to use Zendesk, but there are many excellent options out there. This tool allows us to see and respond to everything that's sent to us, in an organized central location. So when you email support@pivotaltracker.com, it goes to the Help Desk and the entire Tracker team sees your request in their inboxes. And though we reply via the help desk, we've simplified the process so that you can have a conversation with us over email, and not have to deal with the help desk application itself.
Behind the scenes, having just customer communications in one place lets us be more efficient and do the following:
Verify only one of us answers you at a time (if it's urgent, we all want to leap on replying!).
Answer in the appropriate order.
Add tags to help categorize and flag what you're contacting us about.
Make completely sure we've closed the loop and answered to your satisfaction.
There's more, but that covers some of the key points. However, a bit more detail about tagging: Tags help us look for the top reasons customers contact us. Then we can look at making changes to the product or FAQ, for example, so you don't necessarily have to take the time to write.
Although there are other avenues for support—like phone and chat—we find email is the most efficient and lets us avoid passing on costs. We've found that email support allows us to take advantage of our entire development team's expertise, while providing the speediest possible response.
In addition to sending us an email, customers may also get in touch via our in-app feedback widget. Currently the widget is intended for general feedback/suggestions on Tracker's design and functionality, although we plan for it to eventually facilitate a full support experience. When a user supplies feedback here, it's automatically forwarded over to a dedicated feedback queue within our Help Desk. We use this, along with tagging, to highlight feature requests, etc. This gives our designers and product owners easy access to what you're asking for, and the information you give us about how you use and want to use Tracker.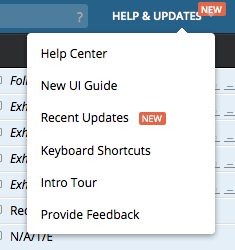 Tracker also supports an integration with Zendesk. When a customer reports a bug, the support team drags that ticket into the appropriate Tracker project and attaches a label of "Customer Reported." Because all state changes and comments are added as private notes to the corresponding Zendesk ticket, support is continually informed of the progress on the bug. Alternatively, we can simply paste the ticket URL(s) directly into the Tracker bug story with the "Customer Reported" label. This method works well for when a bug is related to multiple tickets. It's also good to take this approach if you might need to move the story to another project. Currently that's not possible for a story created through an integration. Every time we release, we can query for the "Customer Reported" label to ensure those customers are contacted about the fix. In addition, we have a special field for Tracker story IDs in Zendesk that we use to paste in bug story IDs. In this way, we cover all bases to ensure our customers will be contacted when fixes are released to production.
Besides ensuring our customers can reliably contact us, it's also important that we provide options for self-help. Currently we do that a few different ways: one way is via our Help Center, which tries to answer most of your questions. Our Getting Started guide includes several tutorial videos, as well as documentation to help new users get up to speed. We also provide a robust and well-documented API that can be used to build a variety of different tools and applications to integrate with Tracker. We advertise many of those tools on our Integrations page. As we're always seeking to improve your support experience, we're also currently working on a new Knowledge Base to provide more in-depth content for self-help.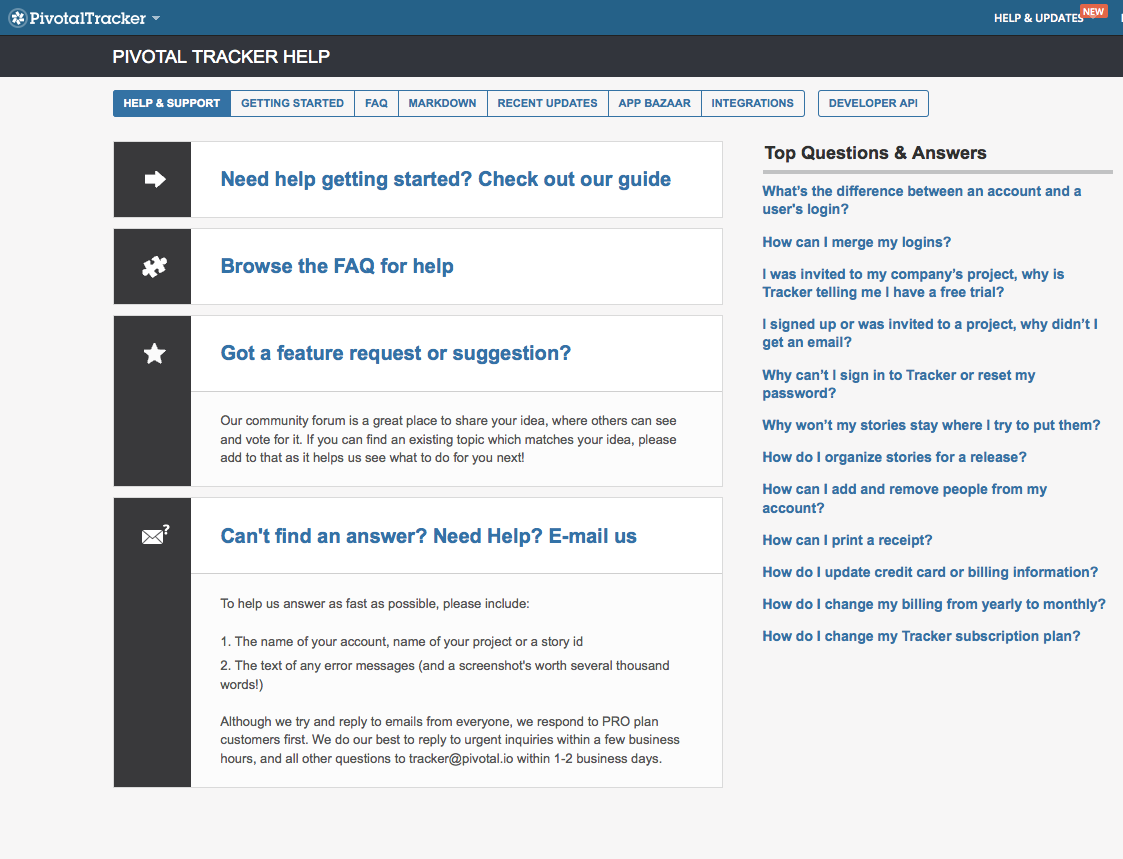 Our Team makes it happen
Though anyone on the Tracker Team can reply to customers, including product owners, designers, developers, testers, support and marketing, your requests are typically handled by the Test and Support Team. We are huge advocates of everyone understanding customer questions, problems, and concerns so we can build a better product for you. Each day in our morning standups, we also assign a developer pair who will assist with any inquiries that can use another pair of eyes. On the Tracker team, this chosen developer pair is known as the "Support Pair," which rotates daily between teams.
Meet Pierre, our Support Pair mascot: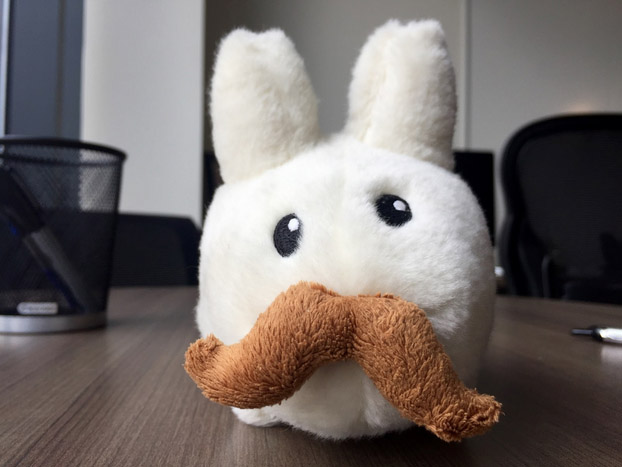 At the start of each day, the designated support pair receives Pierre (ain't he cute!). Sure, Pierre's a little cross-eyed, but the idea is that he's a tangible way to not only make sure a support pair is assigned, but to also keep them reminded of their dual role that day.
This system helps reinforce our ability to provide the best support possible. It also ensures that our developers always have a foot in your world, furthering the strength of our team and keeping the customer on the forefront of everyone's minds. It should be noted that the Support Pair still goes about their normal development tasks, but are available to assist when needed. We also make sure to never ask a developer pair to help with support when they need intense focus on particularly complex tasks that day.
As our company grows and we learn and adapt, our processes around supporting our customers will, too. At the moment, this is what's working best for us. We hope you found this insightful and we'd love to hear how you're facilitating customer support within your own organization! Please leave a comment below or email us!
Happy Tracking!
—Nathan and Jo from the Test and Support Team
P.S., If you're a new startup and not quite sure how you'll approach supporting your own customers, here's a presentation from Jo at Denver Startup Week, 2014 on that exact topic.