Roadmap
Get this integration
Roadmap is a feedback-driven product management software. From a centralized feedback inbox, your team can share, collaborate, and escalate users feedback to product ideas. Prioritize and communicate your product vision via a beautiful embeddable ideas portal and product roadmap. Engage your users while they're already using your application.
Push an idea to Tracker once your teams decide to start working on an idea. Roadmap tracks the high-level progress once the Tracker stories are accepted.
Using Roadmap for product management and Tracker for project management, you'll be confident your releases are valuable to your users while the engineering team uses their preferred PM tool.
Connecting Pivotal Tracker to Roadmap is easy.
From your Settings > Integrations page, click on the Connect button for Pivotal Tracker.
Connect and select the target Tracker project.
Feedback and ideas will have a "Push to Tracker" option to send product ideas as new Tracker stories.
Learn more about the integration here.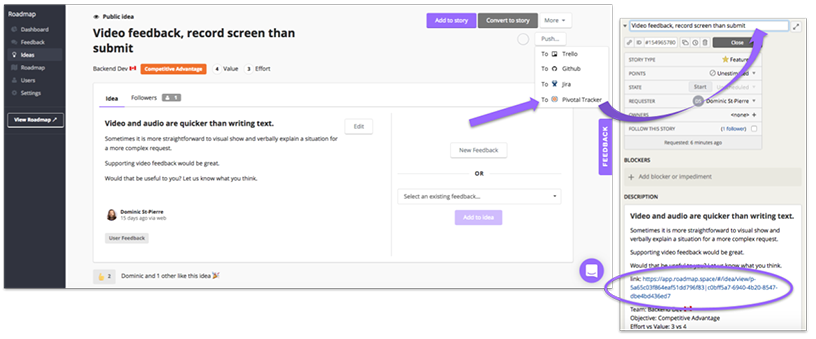 Category: Roadmapping