We're thrilled that Ramen exists and couldn't be more delighted that they asked us to be a core partner. How could we not support a company that used Tracker to help them crush it at the 11/2013 LAUNCH Hackathon and win first place. Besides being an obviously talented and focused development team, their hearts and minds are dedicated to the same cause we espouse: Startups!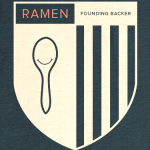 In their words: "Ramen is the first pre-order funding platform designed to help software startups find their first 100 customers and work with them to develop the right MVP. Ramen solves the most challenging hurdle for most development teams: actually getting customer traction and turning that into product market fit in the shortest amount of time possible." 
How awesome is that?