We're big Google Apps for Business users (and fans) at Pivotal Labs, and use the services daily, along side Pivotal Tracker, of course. We're excited to announce that Tracker now integrates with Google Apps, and is available for your domain in the Google Apps Marketplace.

Please read on to learn how to get started, and remember, if you like it, let the rest of the world know with a review in the Marketplace!
Provisioning Tracker for your Apps Domain
The first step is provisioning Pivotal Tracker for your Google Apps domain. You'll need to be a domain administrator to do this, or a user with the Domain Settings privilege enabled (more on that here). Click the button above, or go to the Pivotal Tracker listing in the Marketplace, click the Add it Now button, and follow all the steps.
Once provisioned, you should see Pivotal Tracker on your Google Apps Dashboard. This is where you can make any provisioning changes, or remove apps from your domain.
Integration between Tracker and a Google Apps domain is at the level of the Tracker account (more on those here). Only one account can be associated with a Google Apps domain, so normally this should be the account that holds all of your company's projects.
Universal Navigation and Single-Sign-On
It may take a few hours after provisioning, but all users in your Google Apps domain should see a Pivotal Tracker link in the more menu (in the various Google services like Gmail, Google Docs, Calendar, etc.). Clicking that link will sign you into Tracker via OpenID, using your Google Apps identity.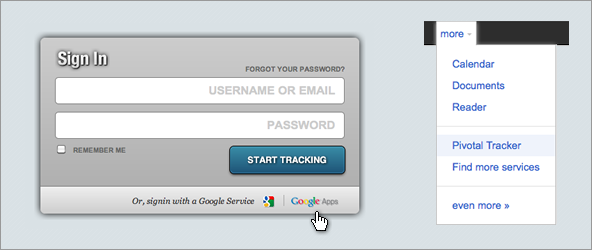 If you access Tracker by going to the Tracker directly, click on the Google Apps link (the one at bottom right), and type the name of your Google Apps domain (for example, pivotallabs.com).
Note: If you run into problems with multiple Google OpenID identities (for example because you used to sign in via Google Accounts), please read this.
Inviting Google Users to Account and Projects
We've made it easy to invite co-workers from your domain to your linked Tracker account and/or projects within it.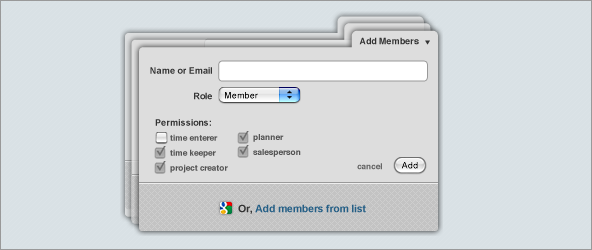 To invite people to your Tracker account, for example to delegate administrative or project creation rights, go to the Account Members page for the account, click the Add Member button, then the Add Members from List link at the bottom.
You'll see a list of everyone in your Google Apps domain. Choose the people you'd like to invite to the account, as well as their desired roles.
To invite users from your domain directly to your Tracker project, go to the Project Members page, and click the Add Members from List button. Again, you'll see a list of all users in your Google domain, and can select multiple users along with their desired project roles. The drop-down menu at the top allows you to toggle between showing Google domain users only (who are not yet on the project), Tracker users only, or both.
Sharing Google Docs via Tracker Stories
Google Docs are indispensable for sharing and collaboration around anything that requires more info than a concise user story. Copying and pasting document links into Tracker stories, and worrying about whether the docs are shared with the right people isn't fun, though – so we've made it easy to attach relevant Google Docs directly to stories.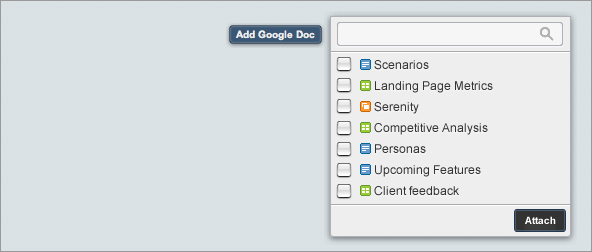 Google documents that are attached to stories are shared automatically with project members, in view mode, as people open them (by clicking on the document thumbnails/links in Tracker). Note – it sometimes takes a few seconds for Google permission changes to be processed, so you might get a permission denied error the first time you open a Google document in Tracker. If this happens, just close that browser tab and try again.
We're eager to hear what you think about the Google Apps integration so far, and what you'd like to see in the future. If you think we're on the right track, leave us a review on the Google Apps Marketplace and star us up!
And, as always, we welcome any kind of feedback. If you have a comment or question, send an email to tracker@pivotallabs.com, reply in the comments here, or mention @pivotaltracker on Twitter!