Kovair Software has partnered with Pivotal Tracker to combine the power of Tracker with other ALM tools for seamless integration of data and execution flows across multiple tools with excellent collaboration and efficient execution. This seamless integration will remove silos, improve activity tracking across best-of-the-breed tools, and deliver end-to-end traceability for better software management.
Need for Pivotal Tracker integration
Pivotal Tracker is often used with other best-of-the-breed tools and it is important to facilitate seamless data and execution synchronization across the tools. Kovair's Pivotal integration enables this synchronization and removes the silos for large teams and multiple stakeholders. With the integration in place, the project management team can use Tracker for project planning, backlog creation, and scheduling, while simultaneously communicating with the rest of the stakeholders who are using different tools. This expedites the development process and reduces the risk of things getting lost in translation as the deliverables change hands from one team to the other.
Centralized traceability metrics
The integration should provide synchronization of relationships that exist across data of different tools. From a monitoring perspective, this is crucial since important data resides across multiple tools and can't be managed from Tracker. This provides better visibility with the granular breakdown of the high-level project to detailed backlogs that are being managed in different tools.

One-stop destination for centralized reporting
The importance of quantifying things cannot be stressed enough. While Tracker provides rich quantifying mechanisms in the form of reports and analytics, the challenge again is posed by multi-tool usage in development phases. Such problems are handled by integrating Tracker with the entire tool set used by development teams and bringing the required details of cross-tool data either in Tracker or having the same moved into Kovair's Omnibus central repository-based reporting tool, wherein different custom reports and dashboards can be created out of the accumulated data. Here is an example of such a report: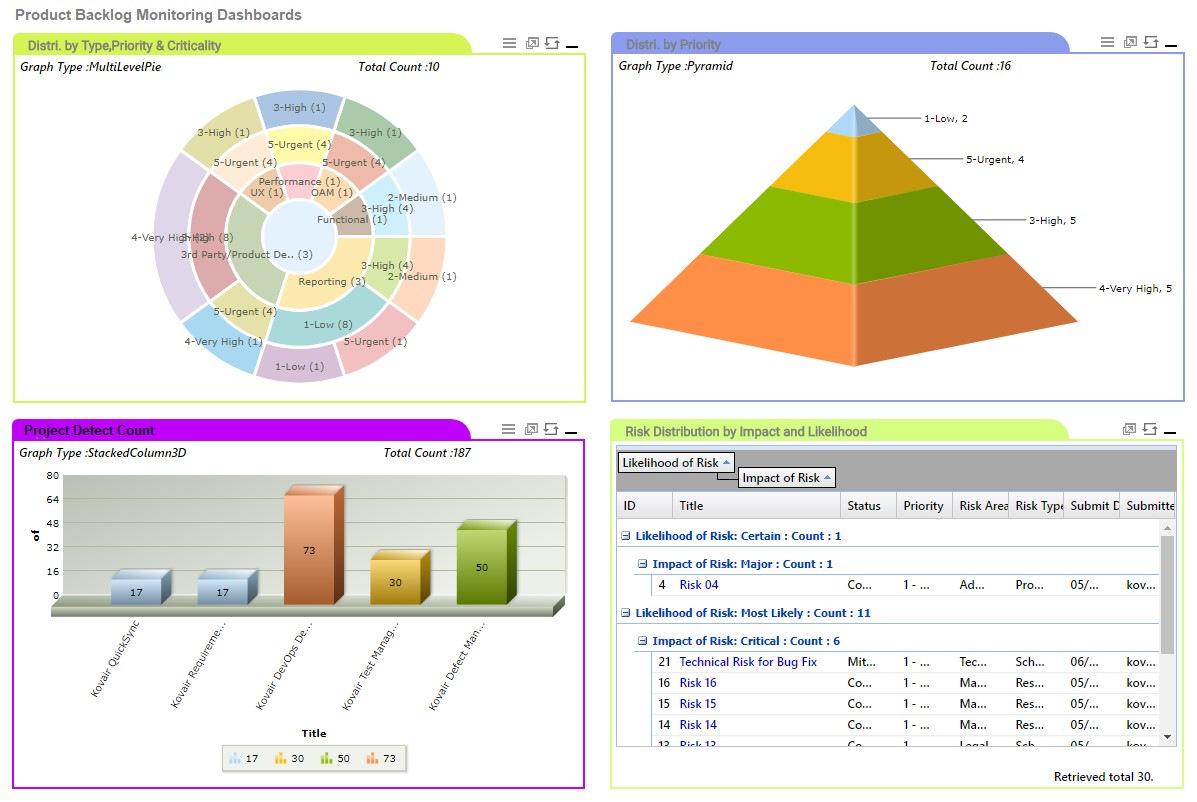 Let's take a look at a sample workflow that can be implemented by integrating Tracker with other tools by using Omnibus Integration Platform. We consider an enterprise team using the following tools:
Rally is used for project portfolio management;
Tracker is used for project planning and monitoring
JIRA is used for breaking down the epics into more manageable user stories tracking;
Eclipse is used as the Development IDE; and
Git is used as the associated SCM.
A new project is created in Rally under a pre-existing workspace. With the help of the Omnibus Integration, the project is then synced into Tracker, where detailed planning of the project is done.
The primary epics are defined in Tracker, and that gets synced to JIRA, where the epic is broken down into multiple user stories.
The stories are again synced back to Tracker, where the PM team can view the projects, their associated epics, and the linked stories created in JIRA.
Once the planning is completed, the developers are notified through the integrated Pivotal process about story backlogs that need to be worked on. The development team works on the stories in the Eclipse IDE and checks in the file into the Git SCM. Kovair provides an Eclipse plugin that is used to view the Tracker story details and also allows users to check in the file against the Tracker stories.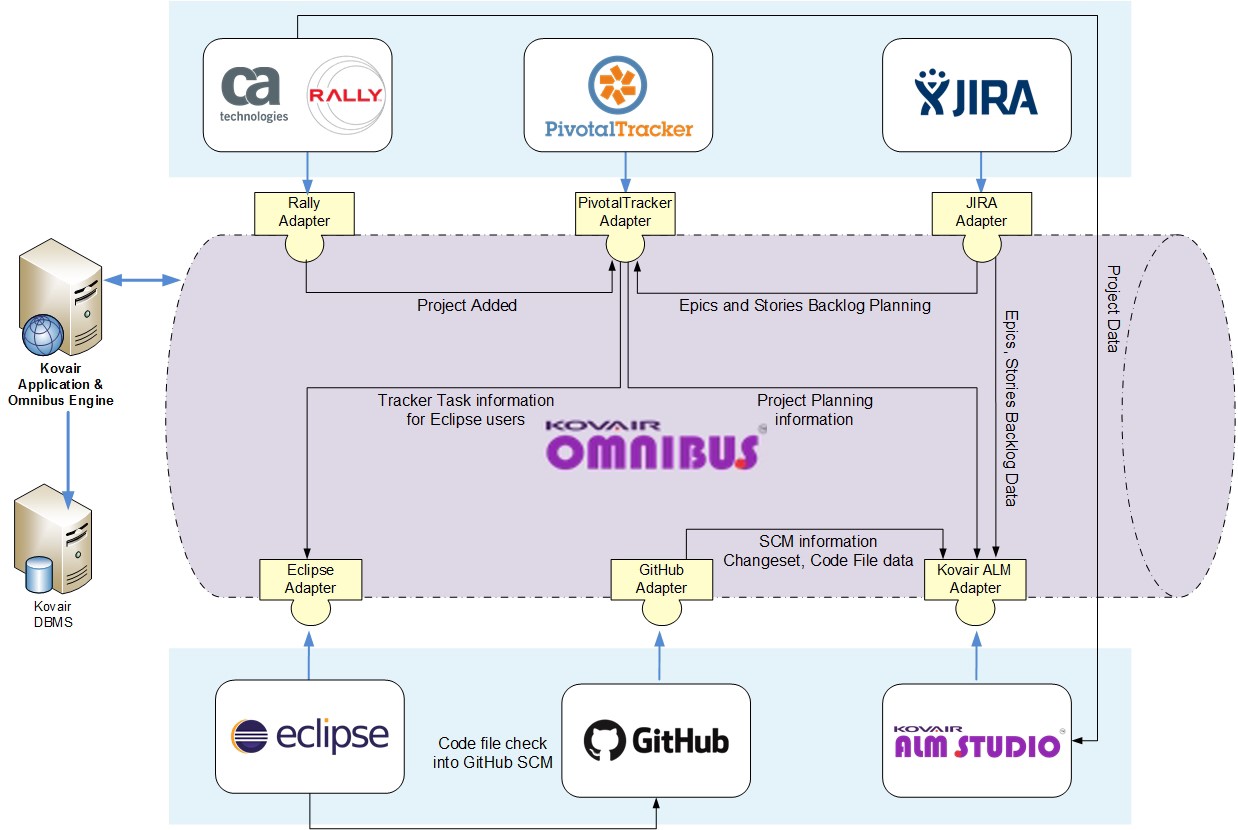 Multiple tool integration using Omnibus Integration Platform with Tracker as the centerpiece
Data pertaining to each of the activities performed in Rally, Tracker, and Git are stored in Kovair's central repository. From here, the entire hierarchy—from the top-level project to the most detailed commit and code file information—can be tracked from one single window.
Benefits of Tracker Integration with Kovair
The Kovair Omnibus integration with Pivotal Tracker orchestrates the automation of information flow across multiple tools. Here are some of the primary benefits of this integration:
Ease of setup: Integration is a simple three-step configuration by using Kovair's Omnibus web-based UI without writing a single line of code.
Monitoring and acknowledgement systems: The entire integration can be monitored from the Kovair application UI itself. Holistic reports outline the total rate of success or failure in sync all in one place.
More than just a means of integration: Kovair empowers users to do more by syncing relationship links associated with the objects to achieve complete end-to-end traceability. We enable cross-team/cross-phase, multitool, automated workflows that are presently siloed.
Integrate every part of Tracker: All the Pivotal Tracker artifacts can be integrated with other tools for seamless synchronization of data, including all custom work item types, fields, and lookup values.
Adapt with the changing processes and needs: The ESB approach to integration makes it easy to adapt with virtually zero downtime in case there is a version upgrade or even a requirement for a new tool to be integrated with Tracker. All a user needs is to install the Kovair adapter for the new version and execute the three-step setup to get the integration running.
Sync and link with Kovair's plugin for IDE: Kovair's plugin for different IDEs help developers to see the associated information from other tools, modify if required, and update status as the task progresses.
In summary, the Kovair Omnibus integration with Pivotal Tracker expedites automation across multiple tools and removes information silos. This allows multiple best-of-the-breed tools to coexist in the development process without any problem or efficiency loss. Older data can also be migrated to Pivotal Tracker to ensure Pivotal Tracker introduction in a development environment has complete information right from the start. Best of all, this integration is simple to set up and enhance. It helps any organization or team transition from any tool to Tracker and set an integrated lifecycle with ease and minimal setup time. Kovair is working with a vision to help Pivotal Tracker users to seamlessly integrate with other tools and is providing this solution as an option to use it over the cloud, as a SaaS solution, or to install on premise with an easy-to-afford startup price. Connect with sales@kovair.com for more details.