I was chatting with the folks over at Code Climate the other day about their integration with Tracker. We blushed when finding out Tracker was one of their first integrations and thought we should take a minute to share a little more info about it!
Enter Kären from Code Climate.
Bryan Helmkamp founded Code Climate in 2011 to help software teams overcome technical debt through higher quality code.
At Code Climate, we're here to support your team's commitment to quality. We think one of the best ways to do that is to make sure teams have great visibility into quality and security issues at every step of their workflow.
That's why one of the first tools we integrated with was Pivotal Tracker. So many development teams rely on Tracker, we wanted to make it easy as possible for them to take action on the issues we surface.
Code Climate reviews your code on every commit, and alerts you to quality and security issues before they hit production. When something crops up you can instantly open a Tracker story right from wherever you work, whether that's email, Campfire, HipChat, or the Code Climate dashboard itself—so you can start fixing immediately without disrupting your workflow. All Stories opened are linked back to Code Climate so you can track progress and close the feedback loop.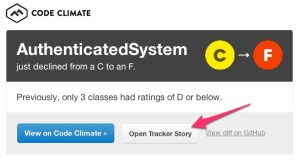 Our Pivotal Tracker integration is also a great tool for guiding refactoring projects. Code Climate can help you get a handle on the trouble spots you're working on, then when you're ready to begin a cleanup you can click to open a chore in your Tracker project.
The Tracker integration can be enabled from your Repo Settings on the "Ticket Integration" tab. Try it—we think you'll like it.